Application Steps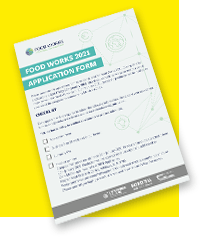 Step One: Submit an application form. The closing date for the next programme is Friday 3rd December 2021.
Step Two:  A shortlist of finalists will be invited to an interview with the Food Works panel on 11th or 12th January 2022.
Step Three: Food Works 2022 starts on Tuesday 1st February 2022 and ends on 29th November 2022.
Application Tips & Hints
Download the application form to your desktop and save a copy of your final submission
Ensure that you complete and attach all elements required
Ensure that a product samples is delivered to Teagasc
Product samples must be available
Read all the FAQ's to understand more about the programme
If you have any other questions please email foodworks@bordbia.ie